The Bali Oasis 1 is located along Marcos Highway, near J.P. Rizal (Ligaya Street) in Pasig City.
 
Phase 2 is just close by but a little farther from the Marcos Highway. It is a popular landmark in this area so it is easy to find the place.
The strategic location of the Bali Oasis offers the following advantages:

Easy access to public transportation. If your ride is not available, that is not a problem when you are living at the Bali Oasis. The location is near LRT 2 Santolan Station which is just a 5-minute walk away. The Santolan Station is your gateway to Katipunan toward Recto or Pier 4. PUVs like jeepneys and buses are also available just outside the gate. It is located along Marcos highway which is a major thoroughfare. The Marcos highway is a scenic 110-kilometer highway connecting Metro Manila with Infanta in Quezon. Living near this highway also gives you easy access to buses and other PUVs that traverse the nearby cities.

Close to big universities and schools. The strategic location of the Bali Oasis in the middle of the city makes it an ideal home to college students who are attending nearby big universities such as the Ateneo De Manila University and UP Diliman. Other nearby schools and universities that are less than a kilometer away from the Bali Oasis include:
 
Calumpang Elementary School
Dee Hwa Liong Academy
Miriam College
St. Bridget's School
Sta. Clara Academy

Close to Hospitals – If you need to go for a checkup or are sick, you don't have to go any fartther because the Bali Oasis is also near hospitals and health centers. The closest of which is the Barangay Calumpang Health Center which is just 290 meters away. The Salvage Regina Hospital is also just about 600 meters away. Other nearby hospitals include:
 
Barangay San Roque Health Center
Racer HQ
The Medical City Marikina

Close to Restaurants – Tired to cook your dinner? There are a number of restos and dining places in the area to feed your gastronomic cravings. Some of the restaurants that are just within walking distance from the Bali Oasis gate are:
Sa Banda Rito resto
Rizas Panciteria
Kainan sa Banda Rito
Sa Plato
Babys Carinderia

Everything you need is just within a kilometer away. Aside from schools, hospitals and restaurants, there are also other establishments near the condominium to meet your needs. These include the Robinsons Metro East, Sta. Lucia East Grand Mall, SM Marikina and Riverbanks Mall. Other establishments nearby are the RDM Vulcanizing, the Cebuana Lhuiller, Aqua 2000, J2 Travel Tours and SN Shoe Supply.
The Bali Oasis redefines convenience. It allows you to have the comfort of an elegant-lifestyle while bringing you close to everything you need. Being in close proximity to the establishments we have listed above gives you more time for your family, less time for travelling, and less hassle for your everyday transport.
It is important to note that the place where the Bali Oasis stands is not a flood-prone area even if it is close to the Marikina river. Flooding is not something you should worry about even during the rainy season.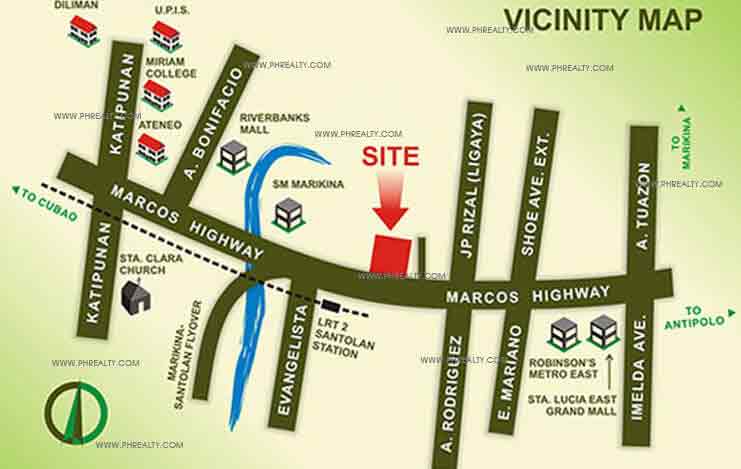 Filinvest Bali Oasis is Minutes away from:
Highly accessible via LRT Line 2 Santolan Station and PUVs (jeeps, buses, FX, etc.)
Less than 5 minutes from major commercial establishments (Sta. Lucia East Grand Mall, Robinsons Metro East and SM Marikina)
Less than 15 minutes from major schools and universities (St. Bridget's School, UP Diliman, Ateneo de Manila University and Miriam College)
Near the LRT Line 2 Santolan Station
Accessible via Marcos Highway
Accessible to almost all PUVs